The model VA is a heavy duty, fully automatic steam generator. It is the unit of choice for both small and large residential installations.

VA components are of the very highest quality including Tylo's own rust/acid-resistant heating elements, self-cleaning, calcium-repellent electrodes and a welded, stainless steel water reservoir, which is emptied and flushed automatically at the end of each steam bath.

Other features include a remote control facility, infinitely variable temperature control, an energy-saving multi stage thermostat, an electronic water level indicator, a low water cutoff, a built-in safety valve and temperature cutoff, solenoid valves with built-in water filters and an adjustable steam head.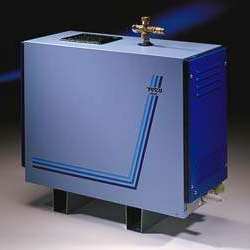 The VA model generates steam continuously and always produces the right effect, regardless of the water quality or water level.

Tylo's VA generator must be permanently connected to water and electricity supplies. It can be located up to 50 feet from the steam room, such as in a well ventilated cabinet or equipment room, above, below or on the same floor as the steam room itself.

This unit is used in conjunction with a required separate control panel (see below for options), and is available in sizes of 6, 9, 12, 18 or 24 kW (switchable for single or three phase power). The table below gives details of the appropriate output for the size and construction of your steam room.