Pre-Built Saunas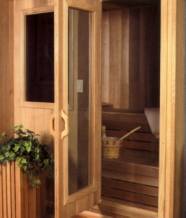 Shown above is a 4 x 6
Pre-Built Sauna featuring
a 2' x 3' window, a 16" x 60"
door glass and the optional
1x4 Bench Skirting that gives
these benches the "boxed-in" look.

Heavenly Saunas' Pre-Built Sauna is completely freestanding. With cedar interior and a choice of either cedar or economical finished plywood exterior, these saunas are also available with an amazing variety of door and window options.

Every Pre-Built Sauna is preassembled on the factory floor to test the fit of each component. Every part is then labeled upon disassembly, to assure the easiest and quickest installation at your site.

The Heavenly Saunas' Pre-Built Saunas require no special tools or skills to install and are easy to assemble. You simply stand the pre-manufactured wall panels together, then set the ceiling panels in place. You then install the premade benches and duckboard floor, have your electrician connect the power, and you're ready to sauna! Since the Pre-Built Sauna is just as easy to disassemble, you can even take it with you when you move.




Click Here to view the Installation Instructions
for our Prebuilt Saunas (PDF Format - 615 Kb)


For our full menu of sauna possibilities please
click here to view our pricing and Build Your
Own Sauna interface. There you can play
"what if" with your sauna options, tweaking
your selections for the perfect sauna.

For an easier, less intensive way to pick out
your perfect sauna please click here for our
Pre-Built Sauna Packages. They come in
personal, family and group sizes. Even though
we've pre-packaged it for you, you're welcome
to use these packages as a starting point and
customize them to your liking.

See what our previous customers are saying about our
products and service on our Testimonials Page!

Click Here for our Sauna Q & A Page







---
Pre-Cut Sauna Kits
The Heavenly Saunas' Pre-Cut Sauna Kit is designed for someone who already has an existing space, such as a small room or large closet, that they'd like to turn into a sauna. It is also ideal for builders, contractors and do-it-yourself customers who would like to provide more of their own labor and materials and/or wish the sauna to have a built-in look.

We supply everything that you need to line the inside of the room with cedar, as well as a pre-hung door, premade benches, a duckboard floor, all the necessary trim and accessories.

You are required to provide the structural framing, insulation, vapor barrier and exterior panelling, which are all easily available at your local building supplier.

All Pre-Cut Sauna Kits are available with the same wide variety of bench, door and window options as our Pre-Built models.



Click Here to view the Installation Instructions
for our Precut Sauna Kits (PDF Format - 615 Kb)





For our full menu of sauna possibilities please
click here to view our pricing and Build Your
Own Sauna interface. There you can play
"what if" with your sauna options, tweaking
your selections for the perfect sauna.

See what our previous customers are
saying about our products and service
on our Testimonials Page

Click Here for our Sauna Q & A Page !